Developing cross-border networks of ATI technology centres in the field of IoT precision farming: challenges and opportunities
Online event
The European Commission has the pleasure to invite you to the workshop "Developing cross-border networks of ATI technology centres in the field of IoT precision farming: challenges and opportunities" that will take place on Friday 4th of December, from 9:00-12:30.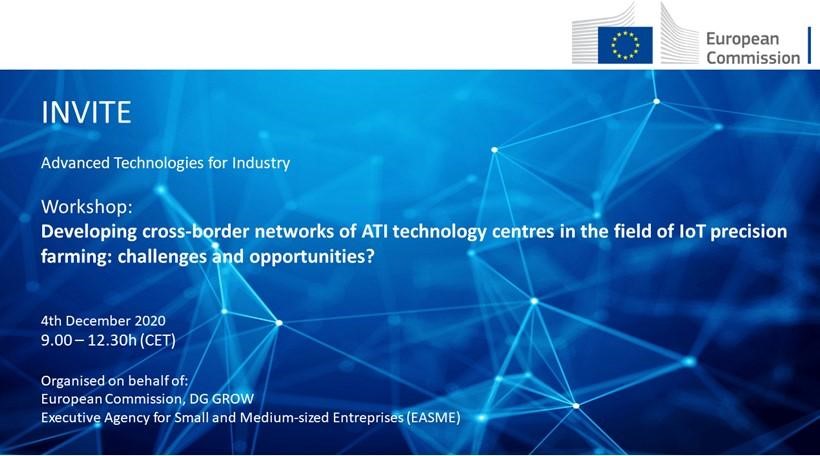 This event will be the second in a series of 4 workshops on cross-border networks of technology centres organised within the Advanced Technologies for Industry (ATI) project commissioned by EASME and DG GROW. The project provides a systematic monitoring of technological trends and reliable, up-to-date data on advanced technologies to properly support the implementation of policies and initiatives and finally promote a competitive European industry.
The workshop will focus on how networks of technology centres can be more effective in satisfying the needs of SMEs by implementing a value chain approach, being more reactive to market needs and including actors over the entire value chain.
The online workshop can be attended by invitation only – some of the participants are part of the mapping of ATI Technology Centres of the European Commission.
Please confirm your availability to attend this workshop by registering in this link.
Program:
9.00 – 9:05 Welcome
9:05 – 9:30 Introduction to the concept of value chain-based networks. Recommendations from the "Study on Access of SMEs to ATI technological centres"
9:30 – 10:45 Presentation of various cross-border networks of ATI technology centres (S3 High Tech Farming partnership, agROBOfood, ICT-AGRI-FOOD, NEFERTITI, SmartAgriHubs)
10:45 – 12:20 Discussion
12:20 – 12:30 Conclusions and Next Steps
Technologies
Internet of Things
Sectors
Agriculture