Transparency and sustainability in the potato processing chain from F2F through innovative data sharing
Suspot Logo
Topic
Agri-food systems enabled by interconnected digital technologies that are more transparent to consumers, farmers and other stakeholders along the agri-food value chain.
Introduction
The project will investigate, develop, test, and use state of the art data sharing technologies in the whole potato value chain from producer to consumer to implement data driven decision making and to increase transparency and sustainability at a European scale. Ultimately by realizing end to end data sharing on European level the project wants to take an important step towards making the potato processing chain future proof for sustainability.
Background
Today retail and EU citizens (as food consumers) want to have access to more sustainability data on the products in the shelfs in the stores. In most cases the data used today is very generalistic and determined by statistics, rather then actual specific data on the sustainability impact that specific product has. The SusPot project wants to address this challenge on an European level.
Main project activities
Examine state of the art
Data sharing between all stakeholders to be able to transfer and share sustainability data
Business model research on data sharing of sustainability data.
Expected social impact
Sustainability is a key challenge for the food industry and processors globally are recognizing their part in safeguarding the future. To achieve their sustainability goals, processors are investing significantly in innovative equipment and processes that help to reduce fuel costs, energy waste, air pollution, and water consumption and to meet the rigorous pollution control regulations of the national and European monitoring agencies.
Data driven sustainability is the way to move forward for the most innovative industry players. They are focussing mainly on energy usage, water usage, transport, partnerships and optimal use of potatoes and waste.
A lot of energy is used in the production process. Factories use heat to peel, blanch, dry and bake the potatoes. Industry also needs a lot of cold to freeze products and keep them at a negative temperature in our cold stores. The cooling plants are their biggest electricity consumers. Data driven optimalisation is needed.
Water is indispensable to potato producers. Of course, farmers need water to grow potatoes, but water is also used in the processing factories in Europe. Already innovative data driven concepts are being installed to optimize the usage of water. Various avenues of research are underway to reuse our own treated wastewater and offer it back to agriculture, to make it circular.
Keywords
Integrated sustainability
Traceability and transparency
Systemic Innovation
Potato value chain
Collaborative business model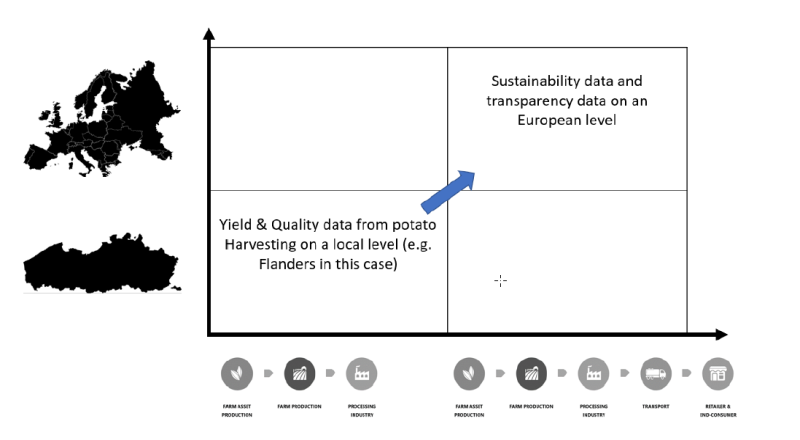 Project coordinator
Steven De De Cuyper - Agristo, Belgium
Partners
BELGIUM: AVR, Flanders Research Institute for Agriculture, Fisheries and Food, ILVO
TURKEY: Scientific and Technological Research Council of Turkey, TUBITAK
POLAND: Poznan Supercomputing and Networking Center, PSNC
Expected project start date and end date
The SusPot project starts on May 2023 and runs until May 2026