Trustable and Sustainable Open Platform for Smart Honey Value Chains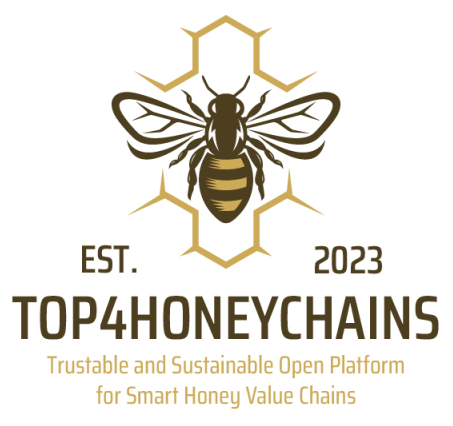 Topic
Agri-food systems enabled by interconnected digital technologies that are more transparent to consumers, farmers and other stakeholders along the agri-food value chain.
Introduction
Trustable and Sustainable Open Platform for Smart Honey Value Chains (TOP4HoneyChains). For over 140 million years, bees play a critical role in flowering plants and the honey bee is one of the most important insects for humankind as every third mouthful of human food is dependent on them. The honey business as an agri-food sector faces sustainability challenges to cope with complex relations from farm to fork, climate change, increasing competitive pressures, varying consumer diets, and food safety (honey fraud). Although Argentina and Türkiye are among the top three countries for the global honey producers, they have not been recognized as higher value end honey products globally. The honey fraud, which currently involves, among others, several Asian countries, has affected the international market. The challenge is to generate a smart value chain, driven by market preferences and consumer demands, based on the quality that has been preserved from the apiary, with records and transparency throughout the entire honey-food business including the apiary and honey processing, building trust between buyers and sellers. Transparent, efficient, and effective honey value chain is needed to achieve a dynamic and responsive honey-food system to cope with major forces globally as well as local imperatives. The main goal of TOP4HoneyChain is to develop TOP that will enable the smart honey value chains in Türkiye and Argentina by leveraging transnational approach along the Polish partner, UEKat and the Latvian partner, LBTU. The platform will be available for other countries to be adopted. The primary concern ofTOP4HoneyChains is to increase effectiveness and efficiency of traceability and transparency for achieving smart honey value chains as a whole honey-food system supported by TOP along data driven innovative digital services. For instance, an apiary will be able to access to the quality test results of their original honey and the blends of each honey, which contributes to traceability and transparency of the chain. The consumer will be able to access information (turning relevant data into a meaningful form that serves a purpose) about the apiary practices and test results. We will develop policy to implement incentives for honey producers to increase their quality and thus to achieve platform adoption for the users (beekeepers, packing organizations, beekeeping associations and cooperatives, exporting and importing organizations, regularity bodies, consumers).
Background
A survey of beekeepers from various regions was done as part of the research project by ARI, the TOP4HoneyChains partner. In the poll, 55% of beekeepers reported they had trouble marketing the goods they produced. The survey's findings indicate that compared to other issues beekeepers confront, the marketing problem is more prominent. Another issue the beekeepers face is the inability to charge the right price for the items they produce. From the standpoint of the consumer, 61% of the 568 people who took part in a survey conducted by the institute stated that they purchase the honey they consume from the beekeepers they trust. 9.7% of those surveyed stated that they do not trust the honey they buy. Consumers also stated they are willing to pay extra for the trustworthy honey that was tested, which was another interesting point. Thus, the problem behind TOP4HoneyChains motivation is to how to design, develop, implement value-added services to those stakeholders including beekeepers, consumers seeking for trustworthy sources of information.
Main project activities
The selected four pilot cases associated with the most demanded value chains will be examined in Argentina and Turkey where beekeepers, beekeeper associations and cooperatives, wholesalers, packagers, retailers including consumers cooperatives will be involved.
We will conduct the requirements engineering activities leading to the design of innovative digital business ecosystems for Smart Honey Chain by addressing many challenges due to the partially different goals of the involved stakeholders and the varying degree of openness of the digital platforms.
While we employ the design science and data thinking for the examination of As-IS and To-Be Honey Value chains, the situation-specific apiary and multi-actor approach will be employed to surface out relevant data points associated with critical points of interests and events
The chain models will be subject to examination in terms of critical points-of-interests and activities and associated data and valued information for the actors.
The TOP4HoneyChains project will design and develop an Open Data Platform by employing the state-of-the-art technologies including dynamic data collection and semantic integration services enabled by a scalable, robust microservice architecture.
We will develop a novel ontology for TOP4HoneyChain and conduct analysis and specification of data API's for external data sources and data consumers.
Expected social impact
TOP4HoneyChains will have significant impacts on the frontiers of a honey-food system global and local economy, environment, society, transnational collaboration, scientific progress. TOP4HoneyChains will be a successful showcase to demonstrate the impacts on all stakeholders of honey value chains by availability and accessibility of data and information on the critical points-of-interests. The Project will have impact on the increase in awareness and implications of the concept of smart honey value chain not only for the consumers but also for society as a whole, other beekeepers and companies that are not involved in this system. On the consumer side, we expect to reach out a representative set of customers (i.e., a wide variety of consumer profiles (with respect to, e.g., age, gender, location, lifestyle, quality awareness)) along the selected four pilot cases. TOP4HoneyChains will have impacts on primary production, processing, packaging and consumers' behaviours and attitude). TOP4HoneyChain will contribute to better sustainability of beekeepers and this digitally supported open (data) platform involves not only women but also young people. The inclusion of digital services to beekeeping will promote young people's inclusion. TOP4HoneyChains will provide society and business ecosystem with a successful case in the food ecosystem and have a strategic impact on the society's awareness and confidence with the idea that the transparency in the food system can be achieved. This will also help the regularity bodies to solve a long-standing problem to change the stakeholders of a honey food system. 
Keywords
Transparent and traceable smart honey chains
Open data platform
Sustainable apiaries
Data-aware digital business ecosystems
Ontology and microservice architecture
Project coordinator
Mehmet Nafiz Aydin - Kadir Has Üniversitesi, KHAS, Türkiye
Partners
TURKEY: Işik University, ISIKUN
TURKEY: Apiculture Research Institute, ARI
POLAND: University of Economics in Katowice, UEKat
ARGENTINA: Instituto Nacional de Tecnologia Agropecuaria, INTA
ARGENTINA: Nexco S.A, NEXCOSA
ARGENTINA: Cooperativa Agropecuaria Y Apicola Norte Grande Limitada, CNORTEGRANDE
ARGENTINA : Alimentos Naturales Natural Foods S. A., ALIMENTOS
LATVIA: Latvia University of Life Sciences and Technologies, LBTU
Expected project start date and end date
The TOP4HoneyChains projects starts on September 2023 and runs until September 2025.